Dr. Satya Prakash Yadav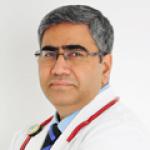 Education :
MBBS, Diploma in Child Health, D.N.B. (Paediatrics), Fellow in Paediatric Hemato- Oncology
Introduction
Dr. Satya Yadav treats children with blood and cancer disorders at Medanta Hospital, Gurugram, India. His clinical focus is primarily paediatric Leukemia and Bone Marrow transplantation. He has a goal to make BMT available and affordable to all those who need it. After finishing his training in Paediatrics from Delhi he went to Sydney, Australia, and worked as a fellow (2002-2005) in Paediatric Hemato-Oncology at The Children's Hospital at Westmead. He has an experience of over 15 years and has performed more than 400 blood &marrow transplants including 50 unrelated donor/cord transplants and 50 Haplo Identical Bone Marrow transplants. He has published in various national and international journals with nearly 500 citations. He was a teaching faculty for fellowship of National Board of Examinations (FNB) in Paediatric Hematology Oncology at Sir Ganga Ram Hospital for 6 years. He has trained nearly 20 fellows in Paediatric Hematology Oncology who are working as consultants within and outside India.
Fellowships and Memberships
American Society of Hematology (ASH)
American Society of Clinical Oncology (ASCO)
International Society of Pediatric Oncology (SIOP)
Pediatric Hemato-Oncology (PHO) Chapter of Indian Academy of Pediatrics (IAP)
Awards and Achievements
Editor- Oncopedia, Doing editorial work for Cure4kids, St Jude's Hospital, USA, 2012
Hemophila Academy Fellow, 2 week training in Hemophilia in Edinburgh, 2010
ANZCCSG Scholarship, To present paper during SIOP meeting in Brisbane, 2010
National Co-coordinator - National Training program in practical pediatric hematology (NTPPPH), 2010
Secretary- Organ Transplant Group, Indian Academy of Pediatrics, 2009
Best Senior Resident in Pediatrics, Dr CK Bhalla Award, 2002
Unique Contribution
Pediatr Hematol Oncol : Hemophagocytic Lymphohistiocytosis in Infants: A Single Center Experience from India, 2014
Pediatr Hematol Oncol. : Barriers to cure for children with cancer in India and strategies to improve outcomes: a report by the Indian pediatric hematology oncology group, 2014
Hematol Oncol Stem Cell Ther. : Persistence of both cords nine months post double cord blood transplantation for juvenile myelomonocytic leukaemia, 2013
Pediatr Hematol Oncol. 201 : Paediatric Allogeneic Stem Cell Transplantation: Experience from the Developing World,, 2013
Pediatr Hematol Oncol : Primary Immunodeficiency Disorders in the Developing World: Data from a Hospital-Based Registry in India, 2013
J Pediatr Hematol Oncol. : Successful treatment of Trichosporon asahii infection with voriconazole after bone marrow transplant, 2013
Pediatr Hematol Oncol. : Outcome of Paediatric Acquired Aplastic Anemia: A Developing World Experience, 2013
Indian J Pediatr : Treatment of Relapsed/Refractory Langerhans Cell Histiocytosis: A Single Centre Experience, 2013
Indian J Pediatr : Management of childhood brain tumors: consensus report by the Pediatric Hematology Oncology (PHO) Chapter of Indian Academy of Paediatrics (IAP), 2011
J Pediatr Hematol Oncol : Human heme oxygenase-1 deficiency presenting with hemolysis, nephritis, and asplenia, 2011
British Journal Of Hematology : Role of prospective screening of blood for invasive aspergillosis by polymerase chain reaction in febrile neutropenic recipients of haematopoietic stem cell transplants and patients with acute leukemia, 2006
Antimicrob Agents Chemother : {Population pharmacokinetics of liposomal amphotericin B in paediatric patients with malignant diseases, 2006