Dr. Rahul Bhargava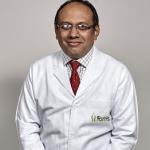 Specialization :
Bone Marrow Transplantation
Introduction
Specialty Interests:
Benin haematology, hematoncology
Paediatric hematoncology
Matched sibling and unrelated and haploidentical transplants
Hematopatholgy and molecular haematology
Previous Experience
1995 - 2004 - MBBS and MD medicine Bhopal MP
2005 - 2006 - served as a senior resident in department of haematology and stem cell transplant at CMC Vellore.
2006 - 2009 AIIMS DM graduate New delhi
2011 - 2013 - established first stem cell transplant centre at Medanta the Medicity, Gurgaon and in a short span of 2 years completed 100 transplants.
2013 - 2016 he joined Artemis as Head of Haematology and did the first haploidentical transplant in Gurgaon.
Fellowships and Memberships
Champion of community haematology through which he constantly works on Anaemia Free India
Runs a campaign called SAY NO TO WHOLE BLOOD where to educate the community of using blood components
Actively involved in developing haematology in Uzbekistan, Iraq, Uganda, Rwanda and many other countries
Visiting faculty at various national and international universities
Member of ISHTM
Founding member of Delhi hematolgoy Group
Awards and Achievements
Best outgoing student in MD bhopal
Best outgoing student in DM AIIMS
Unique Contribution
2006 he was selected in India's premier institute for doing his DM in haematology and stem cell transplant
2009 he went on to Vancouver to pursue advance fellowship in unrelated and haploidentical transplant