Dr. Prahalad Yathiraj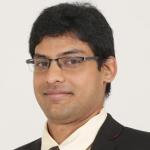 Education :
MBBS, MD, DNB, MNAMS, F-UICC, ECMO
Introduction
Dr. Prahlad is a passionate and enthusiastic Radiation Oncologist with nearly a decade experience in Oncology. After completing his M.D. from Madras Medical College, he went on to do his Senior Residency training from the prestigious Tata Memorial Hospital in Mumbai. Subsequently, he joined Kasturba Medical College at Manipal and worked as an Assistant Professor before moving to Chennai. During his MD, he also received additional training in the essentials of Palliative care as certified by the Indian Society of Palliative Care. In 2017, he was selected as a Fellow of the International Union for Cancer Control (F-UICC) and was deputed to the University of Michigan at Ann Arbor for training in Advanced Technology use in Head and Neck Oncology. In the same year, he was also awarded the Membership to the National Academy of Medical Sciences (MNAMS) at New Delhi as well as a European Certification in Medical and Clinical Oncology (ECMO) issued by the European Society of Medical Oncology. To date, he has four international paper presentations, 17 publications in peer reviewed journals and three awards including Residents' Quiz in Oncology and Best Poster. He is a Life member of several national and international Oncology Societies and is a frequent invitee at conferences as a speaker or panelist.
Awards and Achievements
Cleared the European Society of Medical Oncology examination on Sept. 9th 2017.
Awarded Membership to National Academy of Medical Sciences, New Delhi in July 2017.
Fellow of Union for International Cancer Control (F-UICC) March 2017. UICC Funded 'Technology Transfer fellowship in Head and Neck cancers' program supervised by Dr Avraham Eisbruch, University of Michigan, Ann Arbor, USA.
Certificate course on 'Essentials in Palliative Care' under Indian Academy of Palliative Care between November 2009 – January 2010.
Winner of 'AROI TN &Py' chapter 'Travel Fellowship Award' in Oct 2012