Dr. Adarsh Chaudhary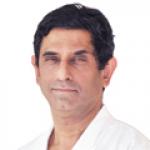 Education :
M.B.B.S. M.S.(General Surgery) FRCS
Introduction
Having trained in UK and the USA, Dr. Adarsh Chaudhary is a doctor with a rich experience in Hepatabillary and Pancreatic surgery. He was instrumental in starting one of the first departments of Surgical Gastroenterology in India. He has also won a number of highly prestigious awards and has been inducted in to respected medical associations such as his fellowships at the Royal College of Surgeons, Edinburgh and the World Health Organization, USA.
Highest number of Whipple's Surgery in India
Started first department of surgical gastroenterology in India
Fellow of Royal College of Surgeons (FRCS) of Edinburgh
Awards and Achievements
Awarded Fellowship of Royal College of Surgeons (FRCS) of Edinburgh, 2004
Vocational Achivement Award by Rotary Club New Delhi, 2002
Samaj Ratan Award by for contribution to the field of G.I.Surgery, 2001
World Health Organisation Fellowship . University of California Los Angeles, U.S.A. Department of Liver Transplantation, 1999
International Guest Speaker Award, Japan Surgical Society, 1996
DAAD fellow [German Academic Exchange], 1995
Best paper award, Association of Surgeon's of India [North Chapter], Shimla, 1982
Pfizer Gold Medal and Scholarship for Postgraduate studies, 1978
First in M.B., B.S. - Speciality of Medicine, Awarded Dr.Devi Chand Memorial Gold Medal, 1977
First position in M.B., B.S. Awarded Dr.Kranti Memorial Gold Medal, 1977
First position in Physiology, Pharmacology, Forensic Medicine, Obstetrics & GynaecologySecond position in Preventive Medicine, Ophthalmology & Otorrhinolaryngology
Unique Contribution
Pancreatology : The cost of Pancreatoduodenectomy – An analysis of clinical determinants, Pancreatology, 2016
Journal of the pancreas : Predicting Post-Pancreatoduodenectomy Complications – Is it Possible?, 2016
World Journal of Surgery : Determinants of Surgical Site Infections Following Pancreatoduodenectomy, 2015
Indian Journal of Surgery : Improving Survival of Pancreatic Cancer. What Have We Learnt?, 2015
Indian Journal of Gastroenterology : Antibiotic use in acute pancreatitis: An Indian multicenter observational study, Indian Journal of Gastroenterology, 2014