Dr. Neera Aggarwal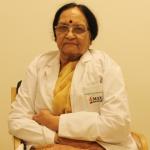 Introduction
Dr. Neera Agarwal has vast experience of 40 years in the field of Obstetric & Gynae. She has handled several complicated cases with respect to pregnancy and gynaecological disorders. She has a keen interest in teaching.
Work Experience:
Faculty Obs & Gynae at All India Institute of Medical Science from 1975 to 1988
Professor and Head of Department of Obs & Gynae, University College of Medical Science and GTB Hospital, Delhi from1988 to 2004
Senior Consultant at Max Super Speciality Hospital, Patparganj, Delhi since 2005.
Speciality Interest:
Maternal and child health
Management of Gynaecological problems
Fellowships and Memberships
Federation of O & G of India (FOGSI)
Association of O & G of Delhi (AOGD)
Awards and Achievements
Scientific papers published in International and National Journals – 110
Books Published – Two on adolescent Gynaecology & Female Breast
Served as President AOGD
Vice President – FOGSI
Eminent doctors award – Govt. of Delhi
Delivered 10 orations in various academic bodies
Supervised 25 post graduate student