Dr. S. H. Advani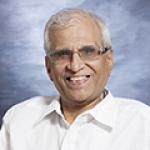 Specialization :
Bone Marrow Transplantation
Introduction
Since 1974, Dr. S.H. Advani has been involved with Medical Oncology/Haematology along with strong interaction with other clinical branches and basic scientists.
At present, his strong interest is to develop developmental therapeutics with clinical research program. This will have integrated projects involving all the branches of clinical oncology as well as potential basic research. Also, he has started biological therapeutics targeting various molecular targets on the cancer cells. Dr. S.H. Advani has been pioneer in establishing Bone Marrow Transplantation set up in India.
He has been involved with about 500 National and International Publications. He has played an important role in establishing D.M. Medical Oncology (Mumbai University) at Tata Memorial Hospital. He is also recognized a M.Sc. and Ph.D. Guide in Applied Biology.
From infancy, now his department has entered into modern Medical and Paediatric Oncology with full infrastructure including Bone Marrow Transplantation, Haematology Laboratory, Flow Cytometer, Cytogenetic and Molecular Laboratory. Day Care Chemotherapy Unit and Patient Concealing Groups. He has been the Chief Investigator for Acute Lymphoblastic Leukaemia Project supported by National Cancer Institute, Washington and Chronic Lymphatic Leukaemia Project supported by Department of Science and Technology.
Recently he has embarked upon the project of writing syllabus along with teaching manual for DM Medical Oncology Course in association with Indian Medical and Paediatric Oncology Association.
Awards and Achievements
He is active in medical and academic research and has over 654 publications. He is the recipient of many international and national awards.
He has received Padmashri Award in 2002, the highest civilian honor granted by the President of India.
he is also awarded Padmabhushan in 2012.
Lifetime Achievement in Oncology 2005, Harvard Medical International.
Gitfed Teacher Award 2004 by The Association of Physicians of India.
Nazli Gad-el-Mawla Award (2005).
INCTR
Lifetime Achievement in Oncology (2005)
Harvard Medical International
Gifted Teacher Award (2004)
The Association of Physicians of India.
Dr. M.A. Panawala Oration (2003)
Indian Medical Association, North East Bombay Suburban Branch.
Dr. K.M. Bhansali Memorial Oration Award (2003)
Dr. D.K. Gosavi Oration Award (2003)
Dhanvantari Award (2002)
PHO Oration Award (2002)
"PADMASHRI" by Government of India (2002)
Dr. M.S. Ramakrishnan Memorial Endowment Oration Award (2002)
Dr. H.M. Bhatia Memorial Oration Award
Institute of Immunohematology, ICMR, KEM Hospital, Parel, Mumbai (2001)
Dr. B.L. Agarwal Memorial Oration Award
Indian Medical Association, Allahabad Branch, Allhabad (2001)
Sahyog Foundation Award
Sahyog Foundation, Mumbai (2000)
Dr. Bankat Chandra Memorial Oration (Certificate of Appreciation)
Indian Medical Association, Hyderabad City (2000)
Award of Fellowhip of (ISHTM)
Indian Society of Hematology & Transfusion Medicine, Mumbai (2000)
Dr. V.S. Bhende Oration Award
Mahim Dharavi Medical Practitioners Association, Mumbai (2000)
Sir Dorab Tata Memorial Trust Oration Award
ISO conference, New Delhi (1999)
"GIANT INTERNATIONAL AWARD"
GIANTS INTERNATIONAL , Mumbai (1998)
Dr. Jal Patel Memorial Oration Award
Governing Council of the Resarch Society, Grant Medical College and Sir J.J.
Group of Hospitals, Mumbai (1998)
Indo American Cancer Congress Inc. Award of Excellence
Philadelphia. PA (1996)
Wanker Oration Award
Indian Medical Association, Nagpur (1996)
Dr S S Thakur Conference Oration
Bombay Obstetric and Gynaecological Society (1995)
Annual Oration of Indian Association for Cancer Research
Indian Cancer Research Society (1994)
""Sandoz Oration Award""
Indian Council of Medical Research (ICMR) (1994.)
Dayalal Vadalia Memorial Cancer Oration
Rajkot Cancer Society (1993)
Dr. J. B. Chatterjee Memorial Oration Award
Chittaranjan Cancer Hospital (1991)
Dr J.G. Parekh Oration Award
Bombay Haematology Group (1990)
Blood Group Reference Centre (BGRC) Silver Jubilee Oration Award
Indian Council of Medical Research (1990)
Manorama Sapre Oration Award
Indian Society of Haematology and Blood Transfusion (1985)
UNICHEM Lectureship in Hematology
Association of Physicians of India (1983)
Dr. B.C. Roy National Award.
Medical Council of India (2005)
The Baroda Sun Life Time Achievement Award.
Bank of Baroda (2008)
Dr. Ch. Gnaneswar Memorial Oration Award
Padmashri 2002
"PADMABHUSHAN" by Government of India (2012)