Dr. P. N. Renjen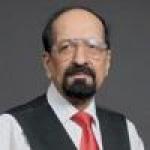 Education :
MBBS, DM, FIMSA, FIAMS, FACA, FIAN, MNAMS
Introduction
Dr. (Prof.) P. N. Renjen, graduated from Gandhi Medical College, Osmania University Hyderabad and did his DM Neurology from one of the most prestigious Institutes of the country - The National Institute of Mental Health & Neurosciences (NIMHANS), Bangalore where he received his Neurology training. Dr. Renjen has been actively involved in teaching programmes and was instrumental in starting of the DNB programme at the Sir Ganga Ram Hospital and subsequently at the Indraprastha Apollo Hospitals in New Delhi. In addition to teaching he has received a number of awards & orations of the Indian Medical Association & Association of Physicians of India at various forums. He has also received number of fellowships including the Fellowship of the Royal College of Physicians & Surgeons of Glasgow UK & Fellowship of Royal College of Physicians Edinburgh for distinguished physician. He has been delivering scientific lectures all over the country and has published papers in national and international journals of repute and has also written chapters in books. Dr. Renjen has been very actively spreading the message that Stroke is preventable and treatable and has been holding public awareness lectures in a number of cities on a very regular basis. At present Dr. Renjen is a Sr. Consultant Neurologist & Academic Coordinator at the Indraprastha Apollo Hospitals New Delhi.
Senior Consultant in Neurology – Sir Ganga Ram Hospital – New Delhi. The Department of Neurology is recognized by the National Board of Examinations. Has been an examiner in Neurology for the National Board.
Consultant to the Central Research Institute of Ayurveda - New Delhi
Consultant to Shri Ram Clinic, New Delhi
Consultant to Air India, Indian Airlines, BHEL, BEL
At present Senior Consultant & Co-ordinator (Academic) Department of Neurology at the Apollo Neurosciences Centre, Indraprastha Apollo Hospitals, New Delhi, India
.
Fellowships and Memberships
F.R.C.P. (Edin.) - Fellow Royal College of Physicians of Edinburgh (2010)
F.R.C.P. -Fellow Royal College of Physician & Surgeons Glasgow U.K.
W.S.O. -World Stroke Organization (Membership number: 5211)
Member - The New York Academy of Sciences
F. A. C. A. - American College of Angiology (USA)
American Academy of Neurology
E.F.N.S. -European Federation of Neurological Societies
Nepal Medical Council
Life Member: Neurological Society of India – RNP-16
Life Member - Indian Stroke Association – LM 18
Indian Academy of Neurology
Indian Epilepsy Association
F.I. A.M.S. - Fellow of the Indian Academy of Medical Sciences
F.I.M.S.A.- Fellow International Medical Sciences Academy
Life Member – Delhi Neurological Association
Ex-President: IMA Karol Bagh.
Delhi Medical Council (20168)
Indian Medical Council.
Awards and Achievements
F.R.C.P.(Edin.) FellowRoyalCollege of Physicians of Edinburgh– 2010
"Glory of India Award" awarded by Indian Economic Forum in New Delhi on 27th of February 2009
FRCP (Fellow of the RoyalCollege of Physician & Surgeons) Glasgow - U.K.
"Eminent Medical Person Award" awarded by the Delhi Medical Association on the Doctor's Day on the 1st of July 2008 at New Delhi.
"Chikitsa Rattan Award" awarded by the "International Study Circle (ISC)" at the time of the seminar on "Role of Medical Professionals Towards Society" on 25th of July 2007 at New Delhi.
Dr. Sushil Malik Oration on Acute Ischemic Stroke – IMA South Delhi Branch – Silver Jubilee year 2004.
Delivered the SubhadraNambudiri Memorial Lecture – 2004 on brain Stroke
Dr. B. D. Kumar Oration Award – 2003 for commendable work in the field of Cerebro Vascular Disease by the IMA Karol Bagh Branch – New Delhi
Scroll of Honour Award for the Contribution in the field of cerebro vascular disease and brain stroke by the Delhi Medical Association 88th Foundation day in 2002.
Gem of India Award – 2002 All India Achievers Conference, New Delhi
Dr. AmritLalSachdev Essay Award (Karol Bagh Medical Society) New Delhi – 1999
Dr. (Col) B. L. Tanjea Memorial Guest Lecture Award (Delhi Medical Association) – 1998-99
Man of the Year (American Bibliography Society) 1997.
HeeraLal Oration Award (Indian Medical Association) Meerut Branch – 1994.