Dr. Anusheel Munshi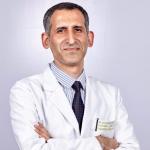 Education :
MBBS MD (Radiation Oncology) DNB (NBE) MNAMS
Introduction
Dr. Anusheel Munshi has the unique distinction of getting trained and working at the best centres in India including the Tata Memorial Hospital Mumbai, All India Institute of Medical Sciences, New Delhi and PGIMER Chandigarh. As a result he has over 16 years of rich experience in radiotherapy treatment with the most advanced and precise techniques, including IMRT, IGRT, Stereotactic treatments and 4D treatments.
Dr Anusheel Munshi is working as Additional Director in the department of Radiation Oncology at Fortis Memorial Research Institute since March 2012. Dr Munshi worked as Associate Professor, Department of Radiation Oncology, Tata Memorial Hospital, Mumbai from Nov 2005 to March 2012.
Speciality Interests:
High precision radiotherapy for all cancer sites
Stereotactic radiotherapy and stereotactic radiosurgery
4D (motion based) treatments
IGRT (Image guided radiotherapy) and IMRT (Intensity modulated radiotherapy)
Breast Cancer, Brain tumours, Lung Cancers
Fellowships and Memberships
Editorial Board, Journal Cancer Research Therapeutics (Journal of AROI)
American Society of Clinical Oncology (ASCO)
European Society of Therapeutic Radiology and Oncology (ESTRO)
Association of Radiation Oncologists of India (AROI)
Neuro Oncology society of India (NOSI)
Awards and Achievements
Dr. Satya Pal Agarwal Gold Medal (Topping in DNB, Radiation Oncology examination)
First Order Silver Medal (Topping in MD, Radiation Oncology examination)
Virender Goel Memorial Gold Medal (Topping in MBBS in Ophthalmology and ENT)
ASCO (American Society of Clinical Oncology) International Grant for 2004 (among twenty internationally selected recipients)
Chairman's award for "Doctor of the year" in 2014
Unique Contribution
Over 100 peer reviewed publications in national and international journals. Principal and co investigator in multiple trials of cancer patients.