Dr. Kayapanda Muthana Mandana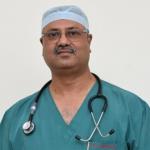 Dr. Kayapanda Muthana Mandana
Education :
MBBS, MS - General Surgery, MCh - Cardio Thoracic Surgery
Specialization :
Cardio Thoracic Vascular Surgery
Introduction
Dr K M Mandana is a leading Cardiothoracic Surgeon in Kolkata.
With a thriving experience of over 25+ years, he has worked with some of the finest hospitals in Kolkata.
Dr Mandana completed his MS (General Surgery) from SN Medical College, Rajasthan University & McH (CTS) from the Kasturba Gandhi Medical College, Manipal.
Following which he did his fellowship from European Board of Cardiothoracic Surgeon, University of Wales, UK.
He is an active member of various eminent organisations like Indian Association of Cardiothoracic & Vascular Surgeon, European Association of Cardiothoracic Surgeon and Society of Cardiothoracic Surgery of Great Britain.
His area of expertise lies in Adult Cardiac & Thoracic Surgery.
Fellowships and Memberships
Member - Indian Association of Cardiothoracic and Vascular Surgery
Member - European Association of Cardiothoracic Surgeon
Member - Society of Cardiothoracic Surgery of Great Britain
Awards and Achievements
Fellowship - European Board of Cardiothoracic Surgeons, University Hospital of Wales, Cardif, United Kingdom , 2000
Unique Contribution
Dr Mandana has over 20 papers in various reputed international journals.
He is visiting faculty at SMST, IIT Kharagpur, since 2006.
He has published 6 papers in various Biomed journals from IIT.
He was also invited in the various research project of DAE and VECC (Dept of Atomic Energy).