Dr. Ashok Rajgopal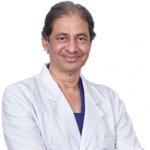 Education :
MBBS, MS, MCh Orth, F.R.C.S. (Edinburgh)
Introduction
An acknowledged orthopaedic surgeon and a PadmaShri recipient, Dr. Ashok Rajgopal is a proud member of several bodies of Total Knee Replacement surgeries in under 12 hours. In February 2016, Dr. Rajgopal touched another milestone of completing 25,000 Total Knee Replacement surgeries in thirty years of practice.
He possesses impeccable expertise in the most advanced cement less implants such as Trabecular Metal implants. The innovative surgical procedure tends to carry a high strength to weight ratio with superb mechanical characteristics of surviving physiological stress. Its compressive strength and elastic modules are very much similar to real bone in comparison to other prosthetic load bearing materials.
Dr. Rajgopal has the honour of becoming the first orthopedic surgeon in India who has carried virtual total knee replacement employing patient-specific instruments. In this procedure, precise alignment holds the key to durability and proper functionality of the knee joint. This next-generation advanced surgery counts on superior advancements in instrument technology along with stated orthopedic alignment principles to ensure the most perfect setting.
He is also a coveted member of a renowned panel of international knee surgeons engaged into the development of advanced knee implants, the newest being "PERSONA" knee system. The PERSONA KNEE SYSTEM was launched in September 2013 in India and has effectively transfigured the concept of knee replacement surgery by developing an almost personalized knee replacement system.
Research Experience
"Knee Surgery" a book edited by Dr. Ashok Rajgopal was released at the AAOS (American Academy of Orthopaedic Surgeons) meeting in New Orleans, USA on 12th March 2014
Fellowships and Memberships
Indian Orthopaedic Association Life Member
Indian Arthroplasty Association Life Member
Indian Arthroscopy Society President
International Medical Science Academy Awarded Fellowship
I S A K O S Active Member
Asia Pacific Arthroplasty Society Founder Secretary, Past President
General Medical Council (UK) Permanent Registration
Indian Hip and Knee Society Founder member Vice-president and President Elect
Awards and Achievements
Dr. Rajgopal has been awarded the Honorary FRCS by the Royal College of Surgeons 11 Mar,2011
Dr. Ashok Rajgopal was awarded the Padmashri by H. E. The President of India on the eve of our 65th Republic Day on 25th Jan, 2014