Dr. Ashok Kumar Omar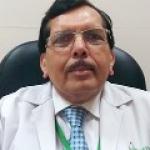 Introduction
Dr. Omar completed his MBBS from GSVM Medical College, Kanpur in 1976. He did his MD (Medicine) from GSVM Medical College Kanpur (U.P) in 1981. Cardiology training at National Heart Institute New Delhi from 1982-1987. Joined Escorts Heart Institute as Consultant Cardiology in 1988.
More than 100 research papers including abstracts in various International and National Journals.
Fellowships and Memberships
Fellow, American Society of Echocardiography
Fellow, European Society of Cardiology
Fellow, Cardiological Society of India.
Fellow, Indian Academy of Echocardiography.
Fellow, Indian College of Cardiology
Fellow, Asia Pacific Society of Cardiology.
Fellow, International Medical Science Academy
Executive Member, Cardiological society of India, Delhi Chapter.
Member, Association of Physicians of India (API).
Member, Indian Medical Association.
Member, IMA Academy of Medical Specialists.
Member, Heart Failure Society of ESC.
Awards and Achievements
Award for distinguished clinical services for EHIRC by President of India Dr. Abdul Kalam on occasion of ISMICS.
"Swajatiya Bhushan" by Omar Vaishya Mahasabha awarded in Bhubaneswar in Year 2006.
Award for Social & Medical service from Gopi Krishan Dharmada Trust, Kanpur in Year 2003.
Reorganization in Asia Pacific "Who is who book Index".