Dr. Srikanth M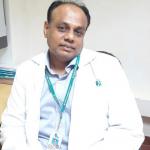 Introduction
Work Experience
I HAVE UNDERGONE MY POST GRADUATE, SPECIALIST, SUPER SPECIALIST AND RESEARCH TRAINING IN UK AND HAVE BEEN PRACTISING IN UK AS SENIOR CONSULTANT IN HAEMATOLOGY AND HAEMATO- ONCLOGY OVER A PERIOD OF 20 YEARS IN PREMIERE INTERNATIONAL INSTITUTION WHICH INCLUDE
ROYAL MARSDEN HOSPITAL
ST GEORE HEALTH CARE LONDON
HAMMERSMITH HOSPITAL LONDON
INSTITUTE OF CANCER RESEARCH UK
Medical Council Registration
57334
Special Interests
MULTIPLE MYELOMA
LEUKEMIAS
LYMPHOMAS
Summary
AREA OF SPECIALIZATION :
HAEMATO- ONCOLOGY & HAEMATOLOGY.
Fellowships and Memberships
AMERICAN SOCIETY OF HAEMATOLOGY
ROYAL COLLEGE OF PATHOLOGIST UK
BRITISH SOCIETY OF HAEMATOLOGY
EUROPEAN SOCIETY OF HAEMATOLOGY
ROYAL COLLEGE OF PHYSICIANS UNITED KINGDOM
Awards and Achievements
GCRF FELLOWSHIP AWARDED BY ROYAL MARSDEN HOSPITAL UK FOR PERFORMING RESEARCH ON MULTIPLE MYELOMA FOR 2 YEARS
MD DRUG DEVELOPMENT IN MULTIPLE MYELOMA -UNIVERSITY OF LONDON UK
Unique Contribution
PUBLICATIONS:
Srikanth M, Jenner M, Wu P, Kaczmarek P, Dines S, Saso RM, Ethell M, M Potter M, Treleaven JG, Davies FE, Morgan GJ Survival and Outcome of Blastoid Variant Myeloma Following Treatment with DT-PACE.Haematologica .2007;92:712.
Morgan GJ, Schey SA, Wu P, Srikanth M, Phekoo KJ, Jenner M, Davies FE. Lenalidomide (Revlimid), in combination with cyclophosphamide and dexamethasone (RCD), is an effective and tolerated regimen for myeloma patients. Br J Haematol. 2007;137:268-9.
Davies FE, Wu P, Jenner M, Srikanth M, Saso R, Morgan GJ. The combination of cyclophosphamide, velcade and dexamethasone induces high response rates with comparable toxicity to velcade alone and velcade plus dexamethasone. Haematologica 2007;92:1149-50.
Davies FE, Srikanth M, Wu P, Jenner M, McCormack R, Cordero F, Trudel G, Morgan GJ. The Combination of Velcade, Idarubicin and Melphalan (VIM) Demonstrates Significant clinical activity in relapsed/refractory myeloma patients. Blood 2007;110:2727.
Srikanth M, Davies F E, Morgan GJ. Update on novel drug combinations in Multiple Myeloma. Expert opinion on Investigational Drugs. 2008;17:1-12.
Moore HE, Davenport EL, Smith EM, Muralikrishnan S, Dunlop AS, Walker BA, Krige D, Drummond AH, Hooftman L, Morgan GJ, Davies FE. Aminopeptidase Inhibition as a Targeted Treatment Strategy in Myeloma. Molecular Cancer Therapy,2009:762-770.
Aronson L, Davenport EL, Giuntoli SG, Srikanth M, Smith E, Morgan GJ, Davies FE.
Autophagy is a key myeloma survival pathway that can be manipulated therapeutically to enhance apoptosis. Blood 2010: 408
Research:
PERFORMED AT THE INSTITUTE OF CANCER RESEARCH UK AND ROYAL MARSDEN HOSPITAL LONDON UK.
EFFECT OF PI3 KINASE INHIBITION IN MULTIPLE MYELOMA .
PHASE 1 AND DRUG DEVELOPMENT IN MULTIPLE MYELOMA.